Aevol: a digital genetics model (
in silico

experimental evolution).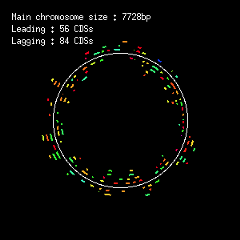 Aevol is a simulation platform for in silico experimental evolution. It was designed to study experimentally the mechanisms responsible for the structuration of the genome and the transcriptome.
Aevol is primarily a digital genetics model: populations of digital organisms undergo a repeated process of variation and selection, which creates a Darwinian dynamic. By modifying the characteristics of variation (mutation types and rates) or selection (population size, spatial structure, environmental changes), one can study experimentally the impact of these parameters on the structure of the evolved organisms. Aevol comes along with a set of tools to analyse both the course of evolution and its outcome.
In Aevol, each artificial organism has its own genome which is evaluated with regard to the environment thanks to a simple artificial chemistry. Because the purpose of the model is to study specifically the evolution of the structure of the genome (e.g. organization of coding vs non-coding sequences, operon structures), the model must be very realistic on that particular level. Not only must the genome itself have a biologically plausible structure, but also the genetic operators: local mutations as well as chromosomal rearrangements and horizontal transfer are hence modelled. The realism of the genome and of the genetic operators is the main specificity of Aevol amongst its competitors.
Website: www.aevol.fr